Unlimited retail return policies allow customers to return almost any item without a problem. This is the most flexible type of return policy, although some specifics may vary. Some unlimited return policies are "no questions asked." This means that the item can be in any condition and returned for any reason, whether purchased directly or from a reseller. 
Unlimited return policies may or may not require a receipt or proof of purchase. Similarly, some unlimited return policies accept any item at any time, while others impose a time limit. For example, REI is an outdoor retailer with a well-known unlimited return policy. While initially, the return window was not time-limited, it has since changed. All purchases must now be returned within one year to qualify for a full refund if you are a member of the REI co-op or within 90 days of your purchase if you are not a member.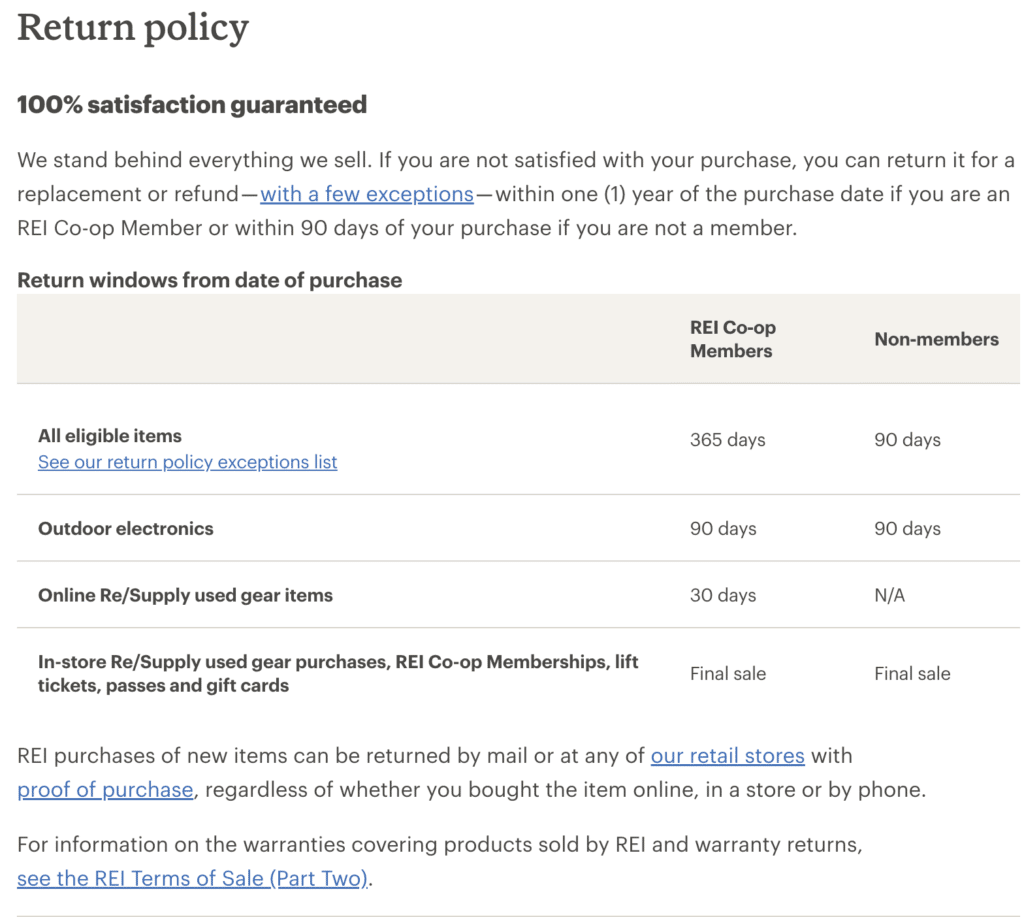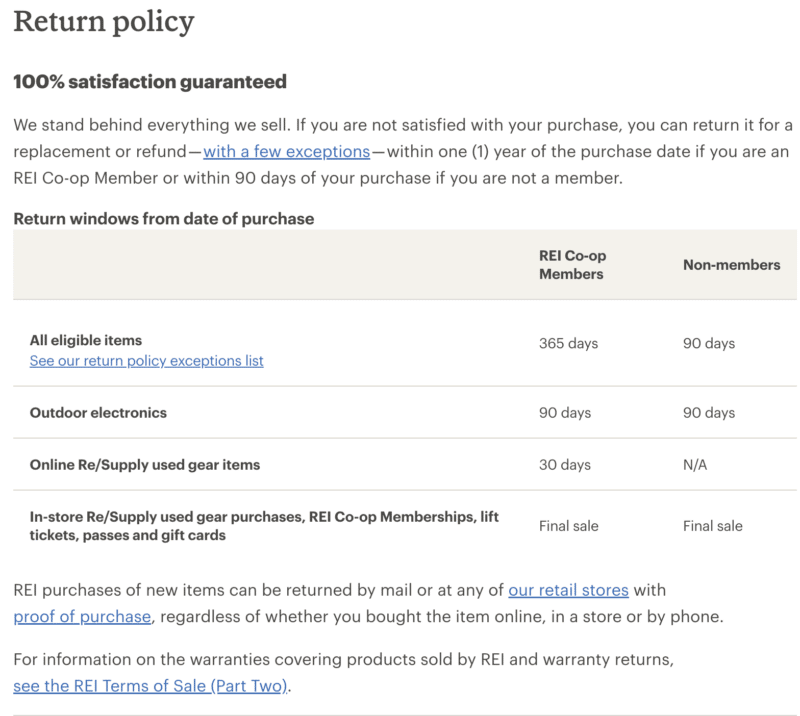 Conditional return policy
Conditional return policies provide conditions or parameters that the purchase must meet to be returned. In some cases, conditional return policies provide for a cash or credit refund, while others provide for store credit. The most common conditions of conditional return policies include that the item must still be unopened, have attached tags, include the receipt, be  unused, and/or purchased at full price.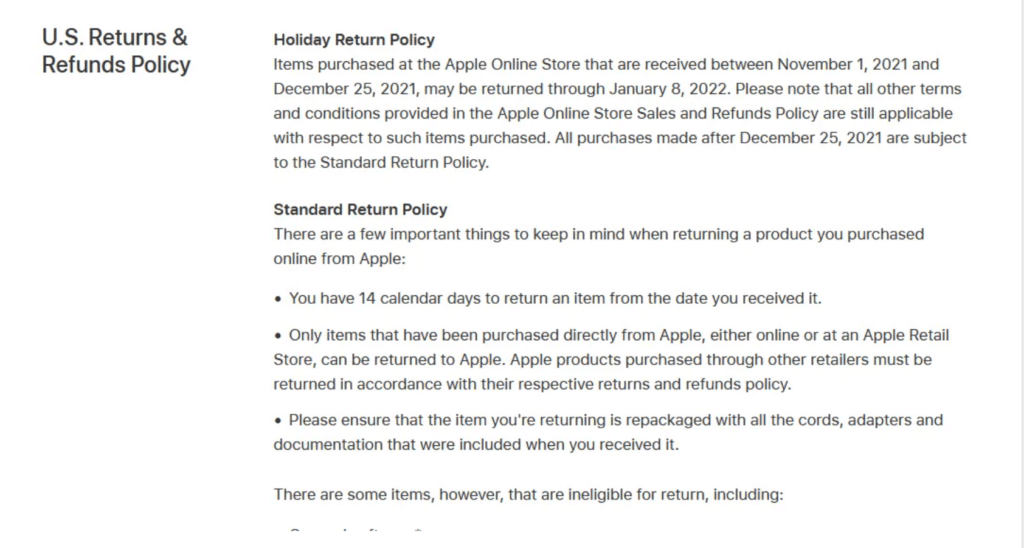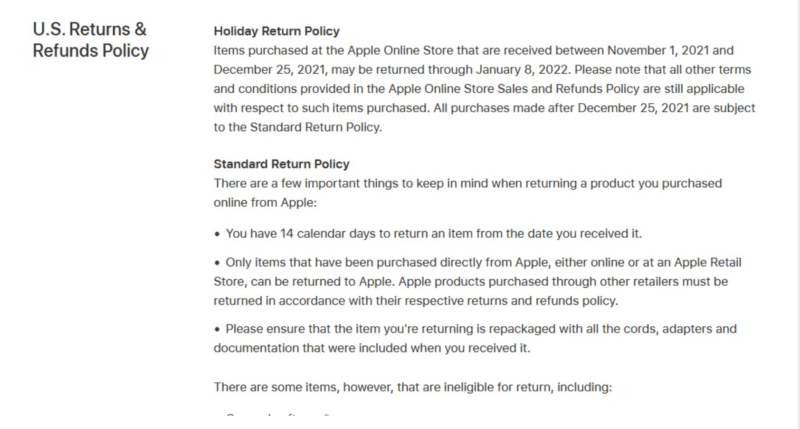 A returnless refund is a case where customers can get their money back and keep the product they intended to return. Some online businesses opt for this return policy to reduce return processing costs and other logistical challenges, although it certainly affects profits. A brick-and-mortar retailer may also choose to offer a returnless refund for in-person purchases and returns. 
This is a good idea if you can't reuse or resell returned merchandise like skin care products. You can encourage the customer to keep the product or share it with a friend who might appreciate it. However, before issuing a refund, you must have solid proof that the product is no longer usable or does not meet the customer's expectations.
Such a policy is far from ideal for most retailers. So be sure to ask yourself the following questions before opting for this policy:
Can the product be resold?

What is the cost of returning the product versus the benefits of reselling the product?

What is the impact of the no-return policy on your inventory?
The answer to these questions will determine the profitability of a returnless refund policy.
No return, or all sales final
An "all sales final" return policy means that customers cannot get a refund if they are unsatisfied with their purchase. This policy may be necessary for retailers who sell items such as food or perishable products.
However, you can add a caveat to these retail return policies to reassure shoppers. For example, if the product is defective, damaged, or expired prematurely, you will probably want to assume the error and offer a refund or replacement. An online store's all-sales final policy tends to be more detailed than physical stores, as unforeseen problems can occur with online purchases.
Customers can only rely on online product descriptions, and they will know the quality of the products after the purchase. If you sell products online, make sure your policy accounts for any exceptions to the final sale, such as defective products. As an example, Wayfair's return policy lists non-returnable items but provides exceptions if the items are damaged or defective.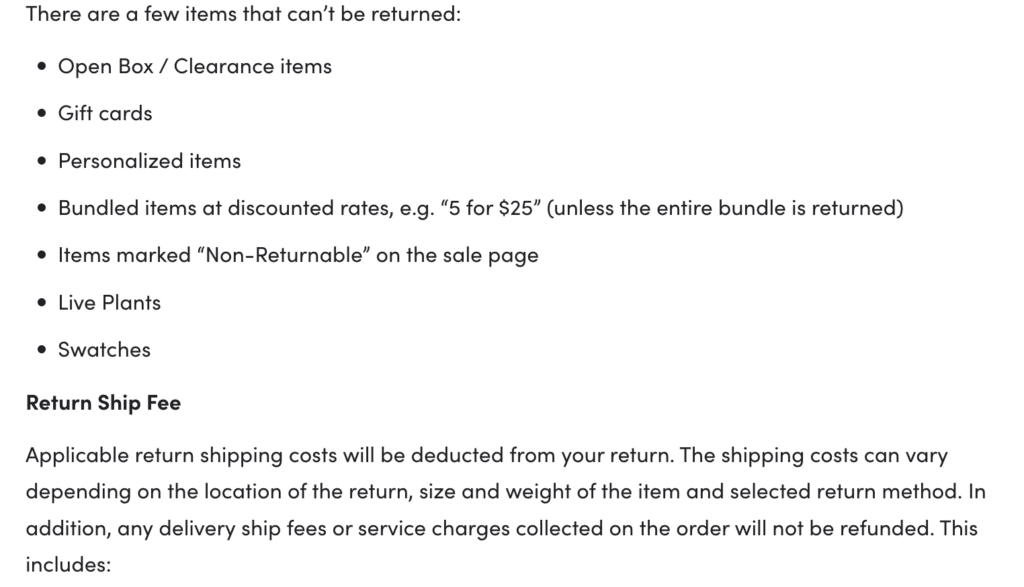 See related: How to Deal with Returns in Retail: Tips for a Refund and Exchange Policy