Glamming up for a party is more exciting than ever before. After all, that short period away from makeup was really a troubling time. The party makeup trends today are all about the eyes and we aren't complaining. Beauty blogger Muskan Chanchlani shows you one of her favourite party makeup looks by taking you through a step-by-step makeup video tutorial. So pick up your makeup tools and get started.
Perfect Party Look ft Muskan Chanchlani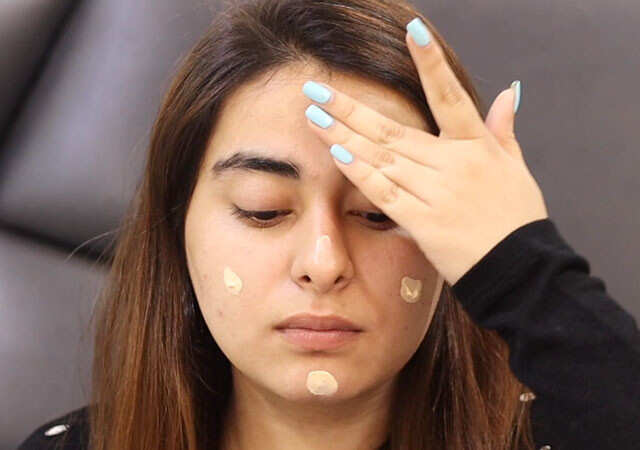 #1 Prep & Prime
First and foremost, it is important to prep your skin with a hydrating moisturiser or a makeup primer. Ideally, once your moisturiser is fully absorbed by your skin, proceed to using a makeup base primer.
Tip: You can even use a pore minimiser after primer on areas where the pores look enlarged.
#2 Foundation
The next step after prepping your skin with primer is to apply foundation. A beauty blender, which is a soft sponge application tool, is a good choice. But, you could totally use a brush or even your fingertips, if that's what you're comfortable with.
Tip: Whichever tool you choose, make sure to dampen it a bit for flawless blending. This goes for a sponge, a brush and even your fingers. Always dab for a seamless effect.
#3 Lip Prep
It is time to put on a hydrating lip gel or balm so that the lips are hydrated and crack-free. 
Tip: Doing this helps your lips heal and not crack or flake under matte lipstick 
#4 Conceal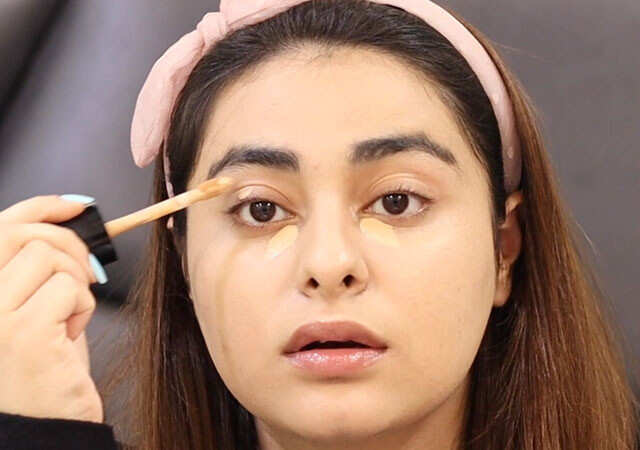 Once your foundation settles in a bit, move on to concealer. Apply it to areas with discolouration only and make sure everything is blended completely.
Tip: Use an illuminating concealer on the under-eye area and the corners of your lips for a gorgeous glow.
#5 Base Lock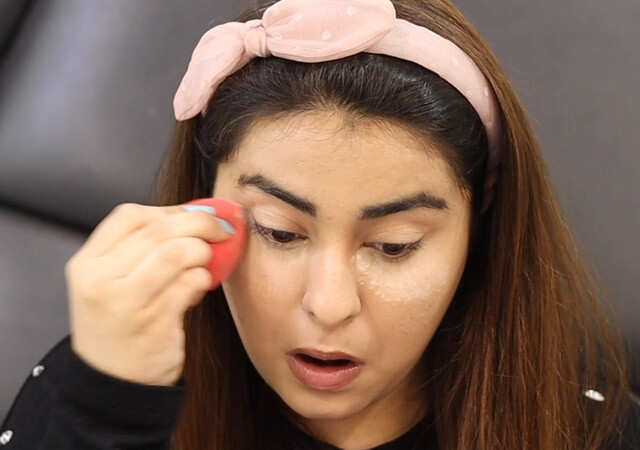 To set the base which comprises foundation and concealer, dust some translucent powder which will set everything in place.
Tip: This step is crucial as skipping this will allow your foundation and concealer to stain your face masks and clothes.
#6 Eyeshadow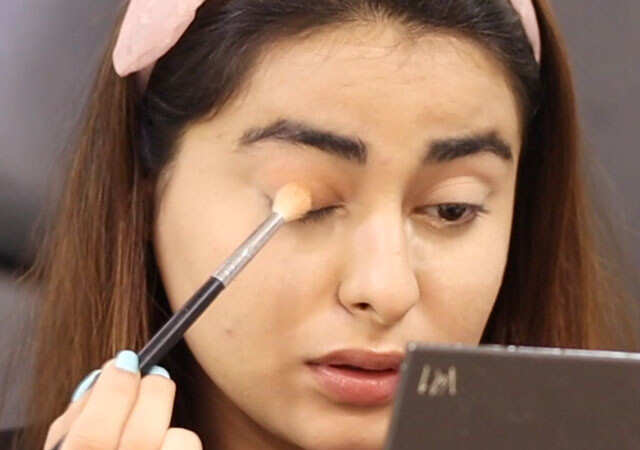 For eyeshadow, lay down a nudish-brown base. Fill in the outer corner of your eyes with black eyeshadow and repeat the same on the other side. Finally, glam things up by adding some glitter to your lids.
Tip: Opt for cream eyeshadows for superb intensity of colour.
#7 Eyebrows 
Time to groom your brows. You can use a brow gel or pomade to do this. Brush your brows before starting to prep with an eyebrow product.
Tip: If you are using a brow pencil, stroke only the areas with gaps and then blend. You can even draw a clean line at the bottom of your brows and clean up with concealer on your brow bone for sharpness.
#8 Contour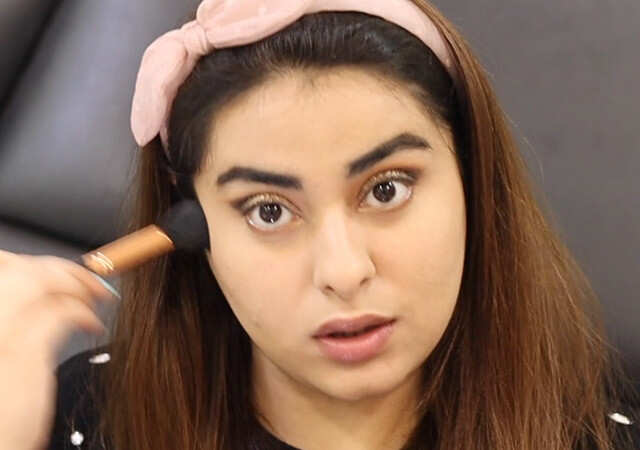 Apply a bronzer to the hollow area beneath your cheekbones.
Tip: Pouting will help you identify your contouring lines better.
#9 Blush
Add some colour by applying blush to the apples of your cheeks.
Tip: Cream or gel blushes offer a more natural and glowing effect.
#10 Eyeliner 
Going back to the eyes, now line your lids using either a liquid eyeliner or a gel liner.
Tip: Try the half eyeliner trend for precision and a flattering eye makeup look for those who have smaller eye shapes.
#11 Highlight
Use a fan brush and add some shine to your cheekbones and nose with a highlighter product. 
Tip: Opt for rose gold highlighter hues or mix a bit of rose gold and gold for a celestial glow.
#12 Mascara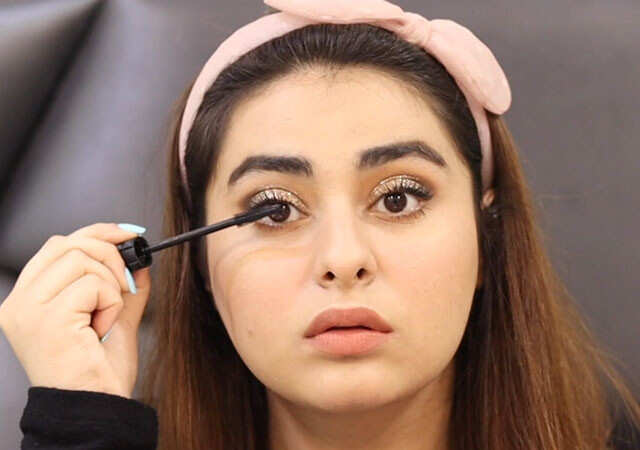 Use mascara to add volume to your lashes.
Tip: Curl your lashes before applying mascara.
#13 Lips
Complete your look by applying a lip gloss.
Tip: Use a lip tint and let it set before applying gloss. This will give you a natural soft pink colour.
And there you go! Go rock your party look.
Also read: Brow Trends That Are Topping The Charts In 2021
Subscribe to our YouTube channel