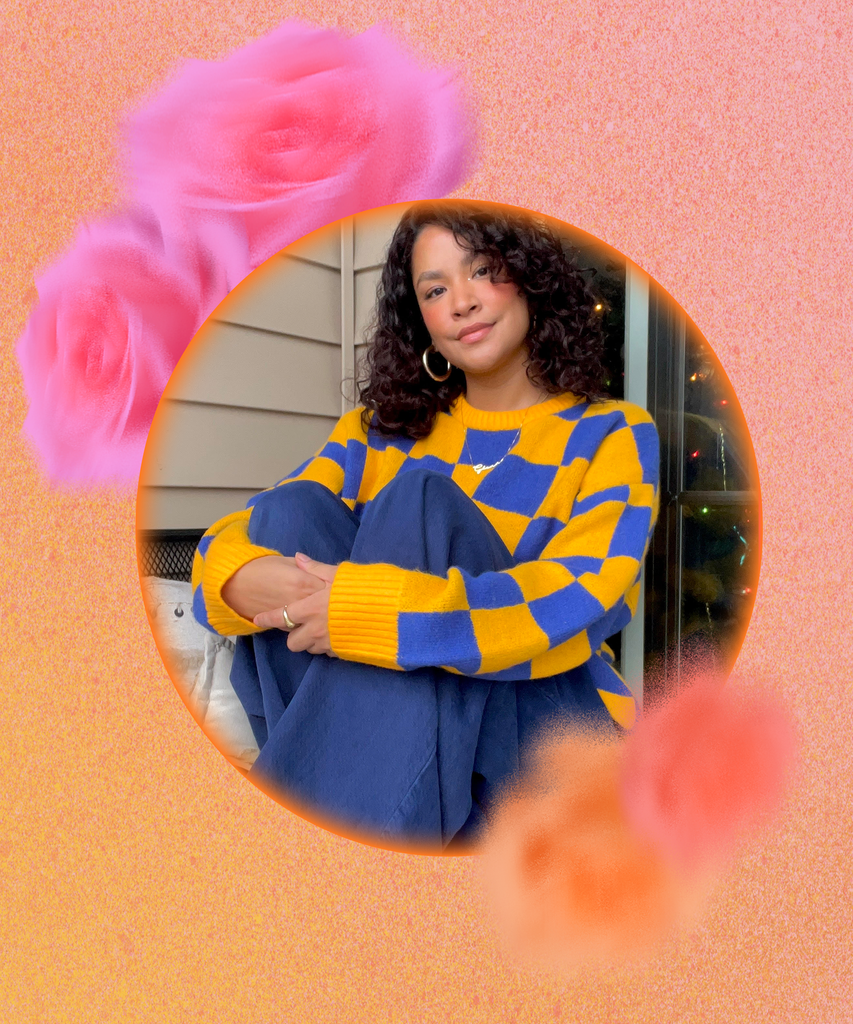 I'm sitting in front of my laptop assisting with case planning and legal research with a fine-knit, warm matching sweatsuit set. My hair is slicked back in a soft ponytail revealing my gold hoop earrings and softly highlighted cheekbones. When the clock strikes 5 p.m., I hop off my couch, reapply my lip gloss, put on my sneakers and polarized sunglasses, grab my Telfar bag, and head out the door for a night out in the same 'fit that has kept me snug all day. This is life in my cozy girl era.
Being in my cozy girl era is about listening to what my body needs and giving it what it's asking for. It's about investing in myself through self care and soft garments that make me feel good and look beautiful. It is about breaking free from ever-changing exorbitant fashion trends and using what I already have to express myself. It's styling the same outfit for different settings throughout the day, and feeling good in all of them. Being in my cozy girl era means I'm comfortable in my body and confident in every space I enter — and I love it here. 
I wasn't always this way, though. In my early 20s, I was the girl posing outside of the club in uncomfortably tight dresses and six-inch heels. I lived for glamorous nights out where I could stunt on the dancefloor. Then the Covid-19 pandemic hit, and I had no reason to dress up anymore. Stuck at home, I was wearing sweatpants and oversized t-shirts that hadn't been washed in days. I didn't feel like myself anymore — and it started to affect my mental health and my confidence overall. While on lockdown, I realized that fashion isn't just reserved for evening photo opps; it boosts my wellbeing. Even more, choosing to embrace fashion and beauty again allowed me to reintroduce some level of normalcy at a time when everything felt out of my control.
Reintroducing glam into my new work-from-home lifestyle was challenging at first. Before the pandemic, I actually had plans. There were birthday parties, concerts, dinners, and celebrations that required me to dress up. But during the height of Covid-19, leisure looked like spending a night indoors watching Netflix from my couch. Stilettos and mini skirts just weren't the vibes.
I wanted to create beautiful outfits that didn't sacrifice my comfort. So I went to my closet and started mixing and matching looks in creative new ways. I paired monochromatic sets with sneakers and coupled sweats with pretty accessories. I merged items I'd wear during evening dates in the city with the cozy, often loose-fitting, garbs that felt more practical for working, cooking, cleaning, and lounging indoors 24/7. These were the pieces that helped me create my cozy girl era. 
Recreating my personal style with clothing, accessories, and makeup I already have isn't new to me. As a first-generation immigrant originally from Lima, Peru, I grew up low-income. While my classmates in New Jersey wore the latest pricey Abercrombie & Fitch shirts, I sported some stranger's old blouse my family purchased for 50 cents from a thrift store. Growing up, my family and I didn't go to the mall. We went to flea markets, secondhand shops, and garage sales. While I didn't always have a say over what I wore, when I did, I started piecing together a hand-me-down wardrobe that had my personal style. I did not need to look or dress like everybody else; I just needed to dress for myself. 
Fashion became a way to express myself. It brought me confidence. And it showed me I could create beauty and style out of discarded garments.
More than a decade later, I'm still doing this in my cozy girl era. Clothes are transitional, and when paired properly, I can make the same comfy 'fit work for different settings and events throughout the day. I don't need to sacrifice comfort to look good, and looking glamorous doesn't have to be painful. On that, here's how I create the cozy girl aesthetic and lifestyle.  
Set the mood with candles and soft music.
The cozy girl lifestyle starts by creating a relaxing environment. You can do this by lighting up your favorite candela. One of my favorite brands is Casita Candles. My favorite scents are Ponte las Pilas, which smells like a fresh-brewed coffee with notes of cocoa, and Big Hoop Energy, which has hints of jasmine, tonka bean, and amber. Both embody me in candle form. Other calming scents include lavender and eucalyptus. You can continue to lower the vibrations with soft canciones that enliven your spirit. My current faves: Natalia Lafourcade, Maye, Cuco, YoSoyMatt, and, of course, The Marías. 
Prioritize skin care and keep makeup light. 
As someone who struggled with acne growing up, skin care is always a priority for me. Since I'm not wearing as much makeup as I used to, I want my skin to look and feel hydrated. I start by washing my face. Currently, I have been using the Youth to the People Kale & Green Tea Superfood cleanser. I then hydrate and re-balance my skin with Laneige's Cream Skin Toner. I follow this up with my favorite serums. I love a Vitamin C serum for brightening, especially if it is from DEZI SKIN or Sunday Riley, and then lock everything in with a Fenty Beauty moisturizer and drugstore SPF. 
Once my skin care is completed, I move on to makeup. I think this is what really ties the look all together. I always make sure my makeup is clean and functional. I love using Rare Beauty by Selena Gomez, especially the creamy concealer, liquid blush, and highlighter for a glowy and natural look. 
Opt for the comfy matching set.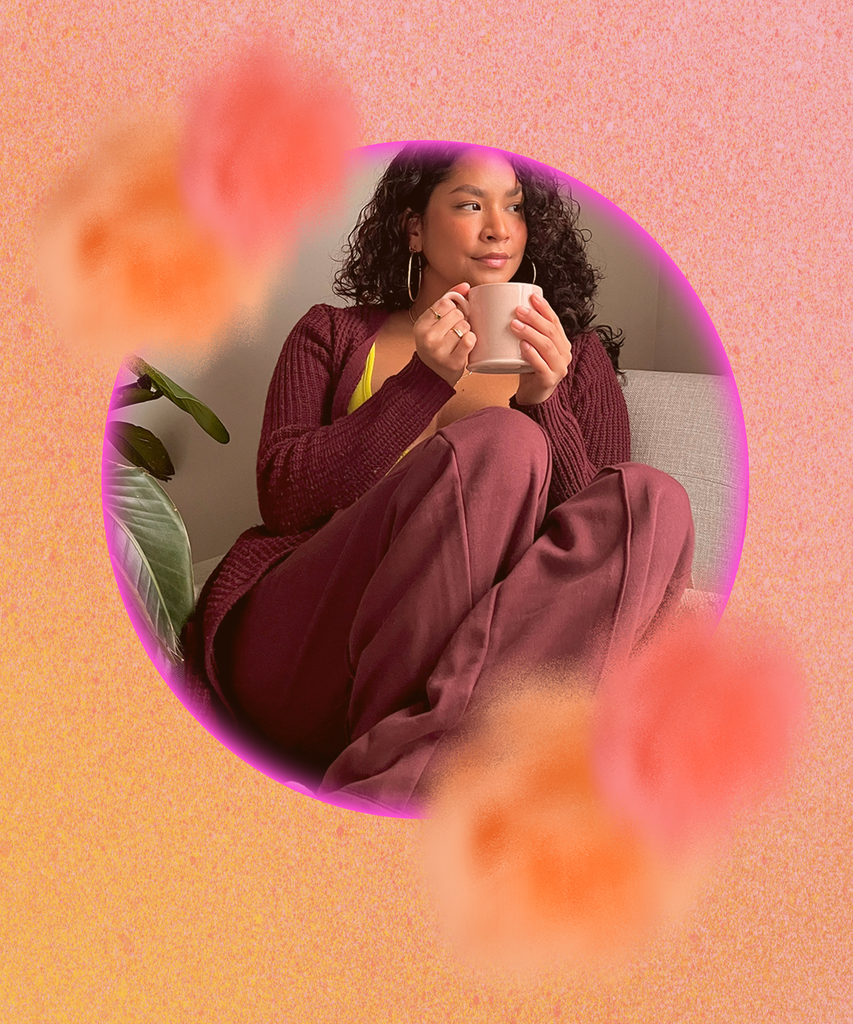 Achieving the cozy glam look will require several matching sets, soft blouses, and cozy sweaters and hoodies, which can all be paired with your favorite and most comfortable pair of jeans, sweats, and/or straight-leg trousers. You can find a lot of these pieces online or at thrift stores. I normally go straight to the men's section for my favorite snug sets. 
I've found that a perfect transitional cozy look is an all black outfit, like a black bodysuit paired with black trousers. To elevate this all-day look for evening drinks with girlfriends, I may pair it with a bright or patterned jacket. I tend to go for blazers or oversized faux fur jackets. On the days where I am feeling adventurous, I start out with a bright-colored knit sweater or blouse and black or white trousers. I think it is important to understand how to balance colors. If I choose to go super bright up top, I try to be minimal at the bottom (and vice versa). 
Let your accessories do the glamorizing. 
Like most Latinas, I love my joyas. I usually pair my looks with gold hoop earrings. Sometimes they're chunky; other times they're thin. Sometimes I prefer small hoops; other times I want them to be big enough to fit a fist through. Then, I layer at least two or three gold necklaces from shortest to longest in order to give an illusion of a set. To tie everything together, I stack on some gold rings. Adding jewelry to a "simple" outfit will elevate the look and help it transition from casual to chic.
But, let's be real, jewelry can get very expensive, very fast. I enjoy glamorizing my outfits with trinkets that have been passed down through generations or that I find at my local consignment store. Another secret: Whenever I'm traveling, I make an effort to buy at least one piece of jewelry. It allows me to both support local artisans and to bring home unique pieces that will set my 'fits apart. 
Wear comfortable shoes.
Always important, I regularly pair my outfits with comfy shoes. Six-inch heels are cute, but they're not practical for everyday wear. So I tend to go with sneakers, low-heeled boots, or my favorite kitten heels — whatever will allow me to walk for more than an hour. 
I am a bit of a sneakerhead, and I have collected a few sneakers throughout the years — some thrifted, some brand new. Not only are sneakers comfy essentials, I also use them to alter my look. If you have some extra coins, invest in a dope pair of Nike Dunks. I tend to go with colorful ones.
If you are not into sneakers, then the UGG Tazz slippers are a must, especially in the winter months. Remember, you don't have to sacrifice comfort to look glamorous.
Like what you see? How about some more R29 goodness, right here?