The best blender for smoothies in Australia
How did we pick this list?
Our team selected the products on this list based on actual customer reviews and recommendations. For each category, we carefully selected parameters based on our research and then identified the smoothie blenders with the highest review score within those parameters.
Read more detail on our methodology below.
Best overall smoothie blender: NutriBullet 1200w Series Blender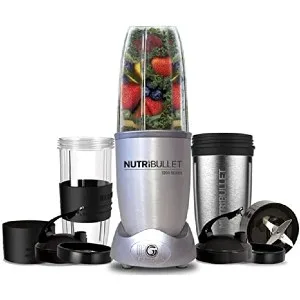 Why we chose it
Our team could not go past the NutriBullet 1200w Series Blender for the best overall as it has an average rating of 4.5 out of 5 stars on Amazon Australia. It is also one of Amazon's recommended products based on its excellent ratings and price and is ranked as its bestselling blender.
This newly designed version of an all-time favourite blender offers a 1,200-watt motor, which can transform even the toughest of ingredients into a super-smooth smoothie. It also has an in-built pulsing feature, which helps you to achieve your desired consistency.
It comes with a flip-top lid, so you can whip up your smoothie, pop on the lid and take it with you. And it is easy to clean by twisting off the blade, rinsing with soap and water and allowing it to dry.
Many online customers have moved on from the 900-watt option to this one and are thrilled with the results as this product is easy to use, easy to clean and always makes great smoothies.
---
Best portable smoothie blender: PopBabies Smoothie Blender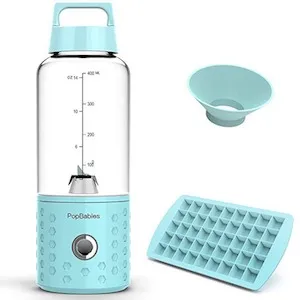 Cup is dishwasher safe
Easy to clean
Expensive price
Need to remember to charge battery
Average online price: $88.50
Buy at AmazonBuy at eBay
Why we chose it
For the best portable smoothie blender, our team chose the PopBabies Smoothie Blender as it has 4.4 out of 5 stars on Amazon Australia from approximately 150 online reviews. The previous model was well reviewed, and this new and improved version has an even higher rating.
Weighing just 770g, this lightweight portable smoothie blender is perfect for a healthy life on the go. Compact and easy to use, it whips up delicious smoothies in under a minute. It is powerful enough to liquify ice cubes as well as fresh or frozen fruit and vegetables. It also comes with a durable heat resistant glass cup.
This blender is rechargeable via USB, using a USB adapter, power bank, laptop or car charger, so there's no need to worry about plugging into a power point. It fits neatly into luggage or work bag and is an ideal option for the gym, picnics, work or on those balmy beach holidays.
And since it saves on electricity and storage space and the parts all detach for an easy clean, it also makes a great little addition to the home.
---
Best cheap smoothie blender: Russell Hobbs RHBL2 Jug Blender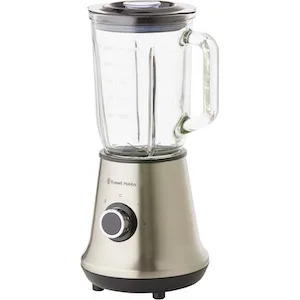 Why we chose it
Smoothie blenders range from around $30 right through to about $900. For the budget end of the scale, we selected the Russell Hobbs RHBL2 Jug Blender as it has a rating of 4.5 out of 5 stars on Amazon Australia from 25 online reviews. It has been selected by Amazon as a top choice based on rating and price and is, in fact, Amazon's third bestselling blender.
This blender is not only a bargain but it gets the job done. With 700 watts of power, two speeds and a pulse option, the Russell Hobbs blender is able to blend ice, fruit and vegetables to make a satisfying smoothie. It features a wide-feeding chute and a 1.5l glass jug to keep your smoothie making simple. And with a stainless steel finish, it adds a touch of contemporary style to your kitchen.
Many online customers say how well this blender performs and how happy they are with their purchase, particularly considering the price they paid.
---
Best blender for green smoothies : Nutri Ninja Nutrient Extractor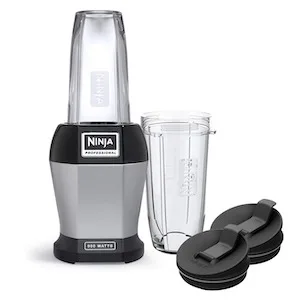 Why we chose it
For the best green smoothie maker, we selected the Nutri Ninja Nutrient Extractor as it has 4.6 out of 5 stars on Amazon Australia from nearly 100 online reviews. Plus, as mentioned in a previous Finder guide, the Nutri Ninja blenders were chosen by customers as the best-rated blenders in the 2019-20 Finder Retail Awards.
This 900-watt blender is super powerful with tough blades to cut through ice, seeds, skins and stems, unlocking the natural benefits of fruits, vegetables and everything needed for healthy green smoothies.
It comes with a 500ml and 650ml cup, both of which have "Sip and Seal" lids for easy and convenient use on the go. It's an easy and effective blender that gives the very best start to every day.
---
Best commercial-grade smoothie blender: Vitamix Ascent Series A2500i High-Performance Blender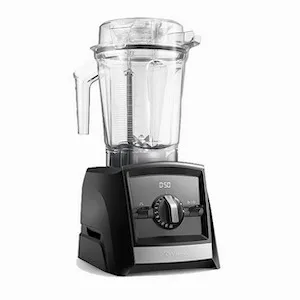 Why we chose it
For the best commercial-grade smoothie blender, we simply had to choose the Vitamix Ascent Series A2500i High-Performance Blender as it is so widely reviewed and revered on a number of websites and by online customers ranging from the professional to those blending at home.
The Rolls Royce of blenders, it is so powerful and efficient, it's not hard to see why so many pay its top-shelf price. Equipped with 10 speed settings and 3 programs (smoothies, hot soups and frozen desserts), it covers just about everything. You can also turn it on and walk away as it turns off once the program is completed. Plus it features a digital timer so you can blend to absolute perfection.
The durable plastic jug is dishwasher safe, but can also self-clean in no time at all by whizzing a little warm water with a few drops of dishwashing liquid.
---
Methodology

12
Brands considered

22
Products compared

5
Best products chosen
Our team scoured the Internet for all the different brands of blenders available in Australia.
We read hundreds of online reviews (as of October 2020) and compared the key features, functionality and popularity of each product.
The products on this list are chosen by our editorial team and are not selected based on commercial relationships.